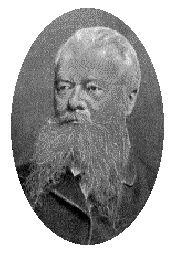 Fritsch, Gustav Theodor



born in Cottbus, Germany, 5 March 1838
died in Berlin, Germany, 12 June 1927


Scientific topics:
anatomy, physiology, zoology, anthropology, photography.

School in Breslau; studies medicine and science in Berlin, Breslau, and Heidelberg; M.D. in Berlin 1862 (anatomy), anthrop. studies in South Africa (1863-66); joined the Prussian Aden solar eclipse expedition as a scientific photographer; zoological studies in Egypt (Electric fish); habil. in Berlin 1869 (anatomy); serving in the army (Prussian-Franco war); extraordinary prof. for comparative anatomy in Berlin 1874; assistant of Emil du Bois-Reymond in Berlin as chief of histology and photography in the dept. of physiology; tour to Africa; after du Bois-Reymond retired, he worked under his successor Th. W. Engelmann, now mainly in the field of physical anthropology; changed to the anatomy institute; honorary ordinary prof. in 1899; retired in 1921.